LS 3578 Rugged Barcode Scanner
Scan all 1-D barcodes from practically anywhere with onboard Bluetooth® capability. The LS3578-ER rugged cordless scanner reads labels as far away as 45 feet and as close as .25 inches, delivering the widest working range of any rugged, handheld scanner.

Designed for use in the yard, warehouse, distribution center, manufacturing plant and other harsh environments, this scanner withstands multiple drops onto concrete and has IP65-rated sealing for protection against the elements.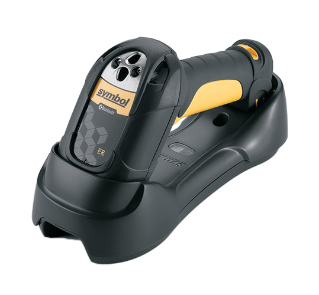 FEATURES & BENEFITS
Wide working range
Allows workers to scan items at .25 in. (6.4 cm) to 45 ft (13.7 m)
Bluetooth-enabled cordless scanning
Helps ensure secure wireless data transmission.
Withstands multiple 6.5 ft. / 2 m drops to concrete; IP65 sealing
Helps ensure maximum reliability in rough conditions.
Bright LED and beeper with adjustable volume
Makes decode feedback clearly visible and audible to users, even in noisy environments.

Multi-point communication
Allows use of up to three scanners with a single cradle.

Bright 650-nm laser aiming dot
Delivers clearly visible line for more accurate scanning.

Compatibility with GS1 DataBar symbology
Facilitates update of your hardware investment

Advanced data formatting
Eliminates costly modifications to the host software.

Batch mode operation
Increases application design flexibility.

Remote scanner management
Enables you to discover, provision and upgrade devices from a central remote location.