NOW'S THE TIME TO DISCOVER BETTER WORKPLACE MOBILITY
10 compelling reasons to choose Zebra for Android
---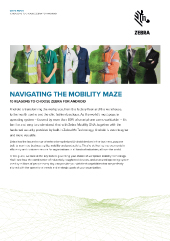 What's in the white paper?
Your sure route through the mobility maze, and why Zebra for Android is leading a revolutionary surge towards better workplace efficiency, security, productivity and accuracy:
Security
Zebra's Mobility Extensions (Mx) transform Android to true enterprise class, with a rich suite of options and apps for improved security and device management.
Durability
Industrially-toughened Zebra devices plus secured Android OS (chosen by 80% of smartphone users worldwide) deliver a compelling combination of ease and strength.
Productivity through manageability
Mobility DNA management tools for lightning-fast apps/device integration, shortened processes, simplified upgrades and less burden on your IT teams.
Lower Total Cost of Ownership
Zebra for Android as standard eliminates bulk of mobile fleet costs and complexities – and future-proofing lowers TCO still more.
---