QLN420 Mobile Printer
Trust these drop-resistant mobile printers to improve efficiencies throughout operations–in the warehouse, shipping and receiving and merchandising. Quickly and easily print barcode labels, receipts, tickets and more, on-site and on-demand. The QLn Series mobile printers feature the latest technology including:
Link-OS® environment-enabled making them easy to integrate, manage and maintain from a PC, smartphone or tablet—from anywhere around the globe.
"Made for iPod®/iPhone®/iPad®" certified and also support Android™ and Windows® devices via Multiplatform SDK apps.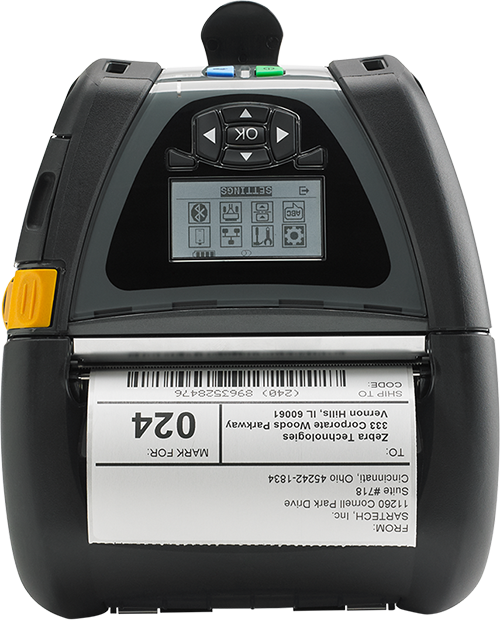 FEATURES & BENEFITS
Asset Management
Bag Tag
Cross Docking
Document & Records Management
Field Service
Inventory Management
Receiving/Shipping
Reverse Logistics
Work-in-Process Tracking
Compliance Labeling
Information Labels
Order Labeling
Photo Processing Labels
Price Labeling
Quality Control
Zebra's popular QL™ family of direct thermal mobile label printers has built a highly satisfied following based upon its proven dropresistant durability; user-friendly, productivity-boosting features; and easy integration. As Zebra's third generation of QL printers, the QLn™ printers extend these QL-platform benefits to the "nth" power.

Your IT department will find the QLn printer more intuitive to integrate into existing platforms thanks to Zebra's Link-OS® environment. Other features such as Zebra Global Printing and improved network performance—including 802.11n wireless LAN capability for more robust and reliable connectivity and throughput—also make integration easier

With Zebra's Link-OS environment— an innovative operating system combining a powerful Multiplatform Software Development Kit (SDK) and software applications—the QLn family of printers is easy to integrate, manage and maintain from any location around the globe.

Enabled with Print Touch™, these Link-OS printers offer web page launching features using Near Field Communication (NFC), making it easy to access Zebra's extensive knowledge base of how-to videos and product support.