MC9200 Mobile Computer
The MC9200 is the next generation in the MC9000 Series, the industry's gold standard for mobility in inventory and asset management in the most demanding environments — from the warehouse floor to the dock door.
The MC9200 once again raises the bar on rugged mobile computing and device flexibility, with your choice of three operating systems, the ability to switch between operating systems, seven of our most advanced scan engines, six interchangeable keypads and plenty of power to support today's highly-graphical applications. And if you already own MC9000 Series mobile computers, you can use the same accessories with the MC9200, demonstrating our commitment to helping our customers upgrade as cost-effectively as possible to the newest technology platform.
The MC9200 — all the mobile computing technology you need to take productivity and accuracy to the next level in your toughest environments.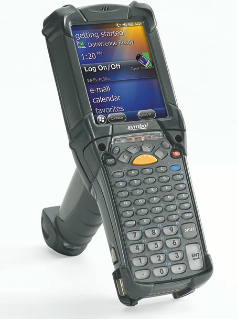 FEATURES & BENEFITS
Your choice of OS
Choose the operating system that supports your technology strategy and environment – Android KitKat, Windows CE or Windows Embedded Handheld.
The power you need to support any application
A dual core 1 GHz processor, 2GB of Flash memory, up to 32GB of additional SD memory provide the power to run multiple complex ERP applications — simultaneously.
High-speed Wi-Fi
Support for the fastest Wi-Fi connection available today — 802.11n — provides your workers with the best possible wireless voice and data experience.
Proven rugged construction, ready for your most challenging environments

Every day, the MC9000 Series devices deliver reliable performance, despite everyday drops on concrete, subzero cold, extreme heat, dust, and exposure to splashing liquids.

Government-grade security
Government-grade FIPS 140-2 Level 1 certification secures Wi-Fi and Bluetooth wireless communications, without impacting device or application performance.

Seven advanced scan engines — the most scan engine options
No matter what type of barcodes are in use in your facility, there is a scan engine option that is optimized for rapid-fire capture of 1-D, 2-D, driver's license, DPM codes and more — even if the codes are dirty, damaged or poorly printed. And if you need to capture it all, our next generation imager, the SE4750 delivers. Its proprietary PRZM Intelligent Imaging technology offers unparalleled performance on just about any type of data imaginable — from 1D and 2D bar codes to photos and fully searchable and editable documents.

Six interchangeable keypads for superior customization
Choose the keypad that makes data entry as easy as possible for any type of application. No need to send the device to a service depot, you can change the keypad in minutes, right on site.