Selecting the right enterprise mobility management device
---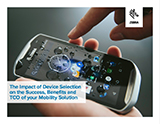 There's a world of difference between using mobile phones in business environments, and having an optimised, effective, cost-efficient enterprise mobility solution in place. Today's breed of rugged smartphones deliver benefits that can transform operations. For retailers, mobility means more satisfied and loyal shoppers and increased sales. In healthcare, mobile device management eliminates errors and enables better collaboration and higher quality care. And in the warehouse, operators can process orders and deliveries instantly to eliminate volumes of paperwork - enabling faster delivery and order-to-cash cycle times.
Getting the best mobile device management solution means recognising the total overall cost over the entire lifecycle, combining form and function to maximize adoption speed and process efficiency.
The white paper here provides everything you need to know about the impact of device selection on the success, benefits and TCO of your mobility solution. The right solution will combine ease of use, comprehensive data capture capabilities and durability, providing the power to support all your mobile applications, and the features your workers need to streamline processes and achieve maximum productivity.
Read more about the most powerful family of ready-to-use voice solutions, bringing the operational simplicity and cost benefits of voice and data convergence to your operations. Download the white paper now.
Get the TC51/TC56 specification sheet >
Learn more about the rugged smartphone that maximises TCO >
---