THE FUTURE OF SPECIMEN LABELLING
AVOID ERRORS AND IMPROVE PATIENT EXPERIENCE THROUGH BEDSIDE SAMPLE LABELLING AND BARCODE TECHNOLOGY
---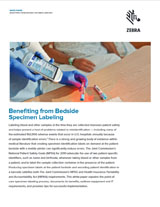 With over 160,000 errors in US healthcare institutions every year caused by misidentification, it's clear that labelling samples as soon as they're taken can help improve patient safety. The ability to create specimen labels on demand with mobile printing technology, at a patient's bedside, could significantly reduce the number of errors made. Barcodes can include more information than written labels – encoding patient identification in a barcode satisfies the Health Insurance Portability and Accountability Act (HIPAA) requirements too.
In this white paper Zebra Technologies explains the point-of-care specimen labelling process, including:
How point-of-care label printing can help prevent errors in your healthcare process

A typical end-to-end mobile labelling process, and how it works in practice

The technology you need to introduce bedside printing in your facility
Download white paper now
To find out more about Zebra Healthcare Solutions, please
visit our website.
---