MODERN MEDICAL TECHNOLOGY UNLOCKS NEW OPPORTUNITIES THROUGHOUT THE HEALTHCARE SECTOR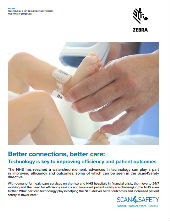 Drive improved patient outcomes and enhanced operational efficiency at a reduced cost, with the help of modern healthcare technology.
As public healthcare professionals like yourself will know, the NHS is struggling. With demand and expectation at an all-time high and resources under more pressure than ever before, the modern healthcare system needs to adapt to survive. New hospital technology combined with improved data management can help.
To alleviate the mounting pressures on staffing and safety, you need a means to evolve and counter the rising costs of the supply chain and the demand for better patient outcomes. As the budget deficit continues to rise, the NHS needs to embrace new medical technology and innovate in order to remain sustainable.
This expert white paper showcases the applications of modern medical technology in the healthcare environment and how devices enabled by the Internet of Things (IOT) can help you achieve enhanced performance at a reduced cost.
Discover how new healthcare innovations can:
Enable patients to take control of their own health through remote monitoring
Improve patient visibility across the system through the adoption of new medical technology
Ensure the NHS delivers a cutting-edge experience through medicine technology that is responsive, efficient and cost-effective for every patient
Drive collaboration between primary, secondary and community care
Download the NHS Healthcare white paper now.
---