IT'S NOT EVERY DAY YOUR WORKING LIFE CAN CHANGE
Now see how the mobility revolution will benefit you
---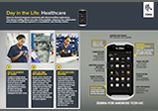 What's in the pdf?
A typically satisfying day in the life of a Zebra for Android-powered healthcare team – and how a workplace like yours is speeding up efficiency, security, productivity and accuracy:
Security
Hardened Android as standard – unique to Zebra – transforms the planet's most popular consumer OS to true enterprise class, assuring peerless device management and security.
Efficiency
World's largest range of enterprise-ready Android devices, purpose-built for optimized business agility and smooth, streamlined mobility.
Productivity Innovative Zebra hardware designs, easy user interfaces, Mobility DNA apps and class-leading development tools mean productivity boosts up to 14%.
Accuracy Uncompromised data transfer between key operational processes and teams for more accurate inventories, test evaluations and archiving.
---